Seniors and Pets Living Well Together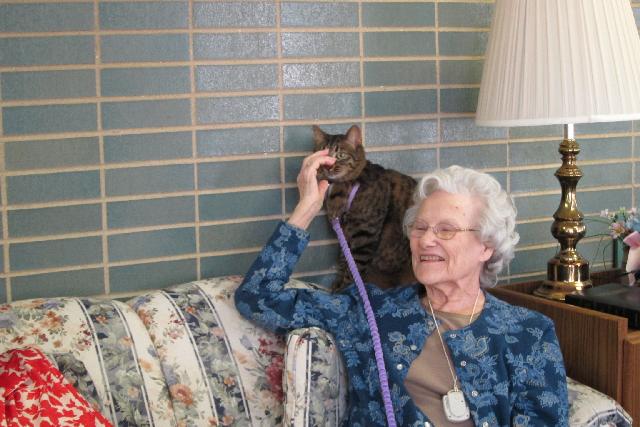 My husband Tom Wold and I own a congregate retirement living community in Tuscola, Jarman Center Senior Living. We have become more focused on being pet friendly as we saw the benefits to the residents in keeping their beloved pets with them as they moved into a retirement community. Now we have 3 dogs, a cat, and a bird aviary at Jarman Center! I put together a presentation to the staff, families and residents about how to help pets get along with seniors and to be safe with them as well as each other. I thought I would share this information to the community as well.
There are many benefits of owning a pet, especially for the elderly. Increased companionship, keeping the people on their routines and increased social interactions with other people through the pet are just a few of the benefits. There are some drawbacks or risks to be considered as well. Having a plan to minimize these risks will make this pet a real joy to all, no matter their age.
First and foremost is safety for the elderly person around a dog or a cat. Tripping or falling over the pet is somewhat common and with a little training and few items around the home you can help prevent this calamity. Teach your dog to like being tied up when people come to the door or someone using a walker comes in. Start by getting a leash and attach it to a strong piece of furniture about 8 feet away from the door or pathway. Keep the leash short, say about 6 feet. Have a toy or an empty water bottle with treats or peanut butter in it handy at the tie up spot. Now when the door bell rings call your dog to the place and tie them up giving them the toy with the treats. If your dog does not know come have the wear the leash so you just have to pick it up and then tie them up with the rewards. The rewards will usually have the dog quiet down and tying them up keeps them from darting out the door or underfoot. After you have gotten the person inside and settled, then you can take your dog off the tether. A baby gate can also be a good way to keep the dog separated and rewarded. The rewarding is very important to keep it positive and help the dog to learn to go to this area and stay out of the way. Do not skip this part. It is the key to learning.
For cats, use a laser light and shine it onto a perch then toss a cat treat up there again to reward the cat for staying out of the way as someone comes in with a walker or at the door. Be sure to have space for the cat to jump up onto a cat tree or a space at the end of a book case. Always do this and even a cat can be trained to jump out of the way and be happy about it.
Staff members at retirement living communities should also learn to approach new pets in a calm manner, and use appropriate rewards for greeting, getting on elevators, and being around many people with walkers or wheelchairs. I have a video on my you tube channel drsallyjfoote called "barking like crazy 2" in this video I demonstrate how to tether up your dog with a food filled toy as my father is coming into my home using his walker. My focus in this video is to show how to get the dogs happily safe before the older person comes in. You can see exactly how to have your dog safe and happy.